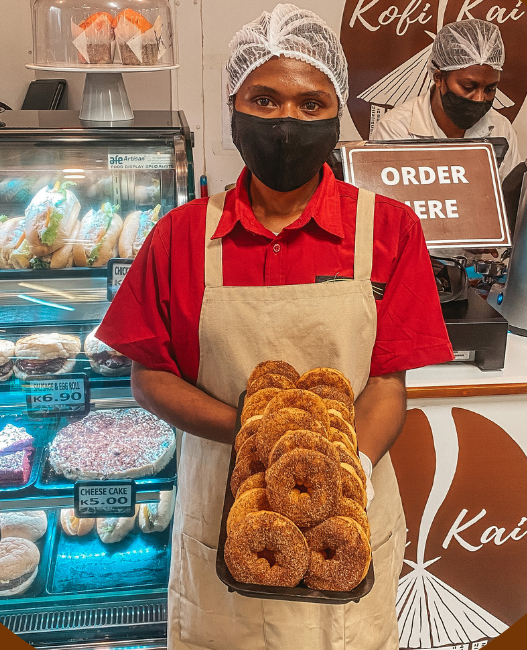 Ditui Balele
Kofi Kai started as an express grab and go  concept in Tininga Hagen Central in 2020. From there the brand has rapidly expanded to 2 other express outlets located in Tininga Dobel Supermarket and Hagen Kofi Hardware. At the end of 2021 we opened Kofi Kai restaurant, our flagship Kofi Kai in a standalone tenancy in Hagen Central precinct. The restaurant is a 150pax seater and is truly Mt Hagen's hidden gem offering a great atmosphere, smiling customer service and second to none food quality as the a la carte menu is extensive offering a range of cuisines.
Kofi Kai expresses serve delicious barista coffee, mochas, hot chocolate & teas and food items such as; chicken salad subs, silverside beef subs, toasties and sweet kai treats such as cheese cake, red velvet slice, donuts and so much more, Kofi Kai its a must visit! The offerings are ever evolving as we trial different products in our bakeries.
With everything being prepared onsite the offerings are made fresh daily and sure not to disappoint.
We open at 7am every morning so are there for you when you need your morning coffee hit!
Open for breakfast, lunch and dinner to take away or dine we are sure Kofi Kai will be a pleasing experience for all.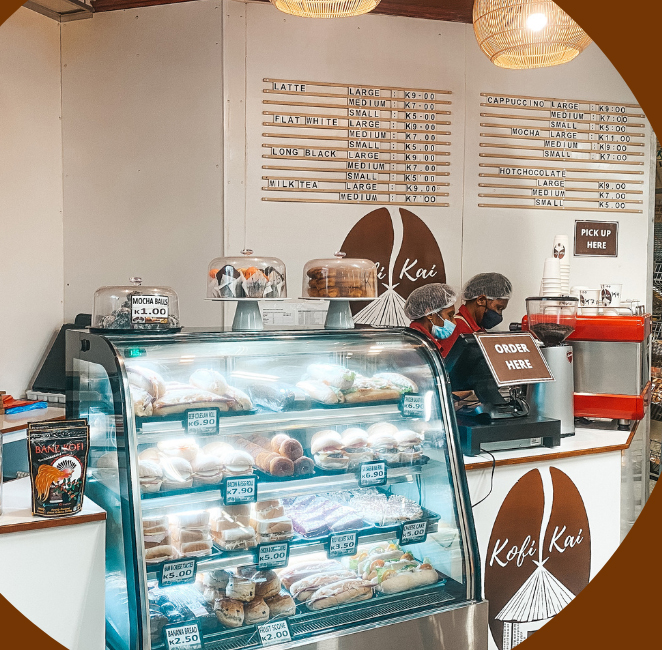 Trading Hours
HAGEN CENTRAL KOFI KAI
Monday – Friday: 8:00 – 5:00pm
Saturday: 8:00am – 12:00pm
Sunday: Closed
DOBEL SUPERMARKET KOFI KAI
Monday – Satruday: 7:00am – 8:30pm
Sunday: 7:00am – 6:30pm