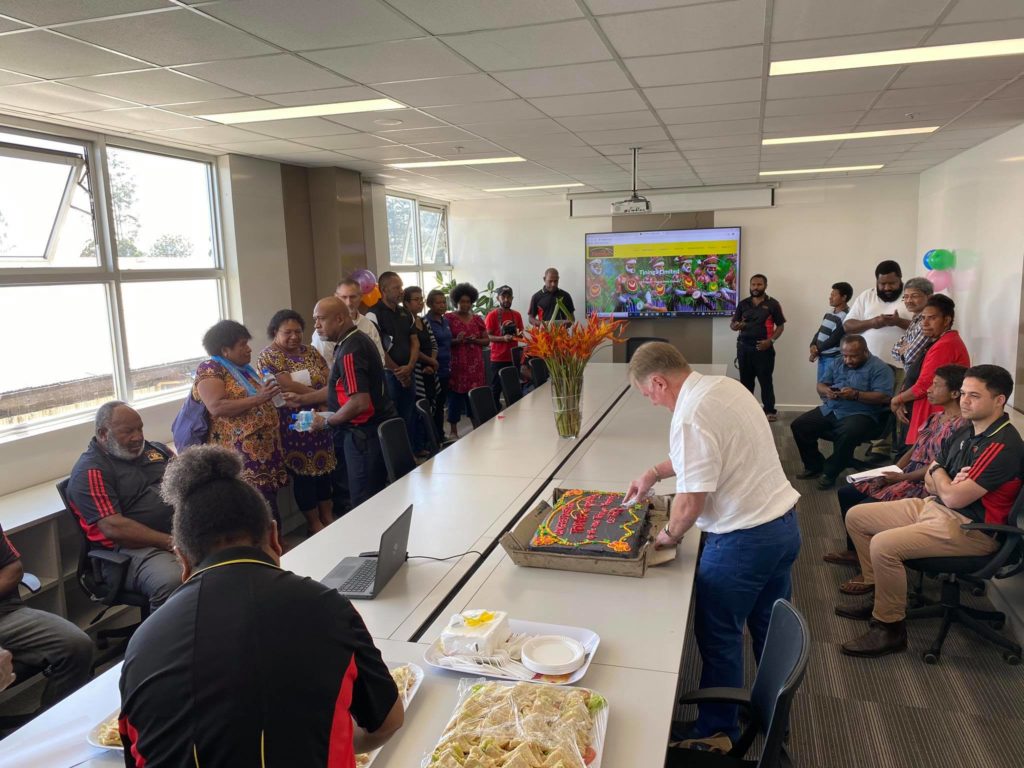 Our newly opened state of the art Tininga Training Centre will host all company training and conference activities at one centralised location – Hagen Central upstairs. The new facility is proof of Tininga's commitment to develop its human resources and to better our employees both professionally and generally in life – as learning is key. In the words of our MD "Nothing gets done without people" therefore, for Tininga to remain ever competitive and successful, the step to developing our own employees in a modern learning environment was a huge one, but one that was necessary. The training centre is laid out to be a stimulating learning environment and is equipped with the following.
Mini Library – fitted with bookshelves, comfortable couches, coffee table, fridge and two workstations the library is comfortably a quiet place to digest information. The workstations are similar to the internet café' concept, where staff can research on-line and to also can be utilized by managers and staff to response to work queries or check in on Pronto in-trays while away from work but within the new facility for training or meetings. The Library will be resourced with books for staff to access whilst in the facility.
Kuri Training Room – fitted with wireless data projector, transportable tables, foldable chairs, whiteboard and pulldown projector screen. This room is classy and has been designed to accommodate Point of Sales (POS) Training when Pronto is rolled out accross the business. All in-house training will be run in this room. This room is also resourced with 12 new laptops which can be used for online-learning, Pronto and in-house basic computer training for all staff. The room can accommodate a maximum of 20 people at one time.
Paraka Conference Room – Fitted with the latest technological conferencing kits to host video conferencing complemented with a smart Samsung 80-inch TV screen which enables a presenter to project anything from his laptop wirelessly onto the big screen. This room can accommodate 25-30 people at one time. With Covid-19 predicted to be around for a while, The Training Centre has been set up for Covid safe business communication – video conferencing.
This state of art new facility is another milestone achievement by Tininga. Opening of The Training Centre shows the companies commitment to developing our employees. This facility pushes the company a step closer to register all its In-house courses with National Training Council (NTC) in achieving a Registered Training Organisation (RTO) status.
Learners learn well in a well setup training room equipped with appropriate resources to cater for different learning styles having this well equipped facility dedicated to training purposes is a great step forward for Tininga.